Motivation and Engagement
The New Expanded Edition of :
Intrinsic Motivation at Work — What Really Drives Employee Engagement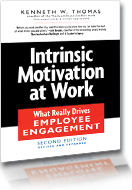 ASTD (the American Society for Training and Development) selected this second edition for co-publication because of its timeliness. In today's organizations, employee engagement is vital and more judgment is being required of workers than ever before. In this new edition of my book, Intrinsic Motivation at Work – What Really Drives Employee Engagement, I draw on the latest research findings to identify the key to employee engagement: intrinsic motivation. Only intrinsic rewards (rewards that come directly from the work itself) encourage the profound commitment and sense of ownership needed for a truly engaged and innovative workforce. I identify four key intrinsic rewards – a sense of meaningfulness, of choice, of competence and of progress. I explain exactly how and why they build engagement and then provide a diagnostic framework to evaluate which need boosting and how to boost them. This second edition has been revised and updated throughout, with an expanded section on how leaders can identify their own intrinsic rewards and new tools, tips, and practices for encouraging intrinsic motivation in others.
Here are some thoughts from people who have read the book:
---
"This second edition elegantly captures the essence of engagement and how leaders can create and sustain it. Valuable reading for anyone wishing to create or lead a 21st-century organization."
— David W. Jamieson, Ph.D., President, Jamieson Consulting Group; Past President, American Society for Training & Development; and coauthor of Managing Workforce 2000
"Ken Thomas continues to contribute to our understanding of the mystery of employee engagement. He provides leaders with a road map that will not only guide them in working with their talented teams, but also help them understand their own motivation."
— Beverly Kaye, founder and CEO, Career Systems International, and coauthor of Love 'Em or Lose 'Em and Love It, Don't Leave It
---
For more information, reviews and purchasing opportunities please click the Berrett-Koehler or amazon.com link.



---
For a training/coaching/change instrument that measures the intrinsic rewards, please see the Work Engagement Profile [ more.... ]