Stress Management
The Measure: The Stress Resiliency Profile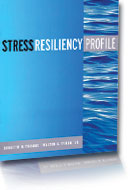 The Stress Resiliency Profile is a self-scoring assessment designed to give clients new insights into ways they may be unintentionally raising their stress level and reducing their job satisfaction and engagement. It measures the mental habits that shape their resiliency to potential stressors. By understanding the thought patterns that can cause stress, clients can improve their ability to effectively interpret situations and manage stress.
Three mental habits that create stress are identified and evaluated:
Deficiency focusing: the habit of focusing on the negatives at the expense of the positives
Necessitating: the tendency to think of tasks as inflexible demands that "must" be met, with little room for discretion or choice
Low skill recognition: the tendency to overlook the role of your own abilities in past successes, leaving you feeling vulnerable when facing new challenges

The profile measures level of use of each of these habits and provides concrete suggestions for counteracting and modifying these habits – to increase resiliency to stress.
The Stress Resiliency Profile is a powerful assessment tool that will add new insights to any program related to stress or transition management. It can be used in a structured setting or as a stand-alone personal development exercise to give individuals fresh insight into their feelings about their job and their performance.
---

For more information and purchasing opportunities please click the CPP link.